Welcome to ICOSP 2020
Amsterdam, The Netherlands | October 14-16, 2020
(

CFP Flyer)
2020 6th International Conference on Signal Processing (ICOSP 2020) will be held in Amsterdam, The Netherlands during October 14-16, 2020.

The technology we use, and even rely on, in our everyday lives –computers, radios, video, cell phones – is enabled by signal processing, a branch of electrical engineering that models and analyzes data representations of physical events. Signal processing is at the heart of our modern world, powering today's entertainment and tomorrow's technology. It's at the intersection of biotechnology and social interactions. It enhances our ability to communicate and share information. Signal processing is the science behind our digital lives.

ICOSP allows academia to meet industry from the international community to exchange experiences, demonstrate their studies and further advance signal processing technologies. You will also have a chance to discover the fascinating culture and architecture of Amsterdam, try out the local cuisine, and discover the city's hidden gems.

As one of workshops of ICCSIT, ICOSP has been successfully held in Barcelona (Spain), Paris (France), Florence (Italy), Limerick City (Ireland) and Taiwan over the past five years. We look forward to seeing many returning faces and welcoming new attendees at ICOSP 2020.

Important Update due to the COVID-19: Online Presentation

As your safety is our top priority and concern, the conference also has added online attendance / presentation for participants in case of you cannot attend the conference because of the COVID-19.

Participants will benefit of registration fee reduction after choosing online attendance / presentation. Accepted papers after registration will still be published normally.

We would like to thank for your support to the conference despite the current crisis situation. Please contact icosp@iacsit.net for more information about online presentation.

Publication
Paper accepted by ICOSP 2020 will be recommended to be published in International Journal of Signal Processing Systems after review process. Welcome you to submit the paper by Online Submission System.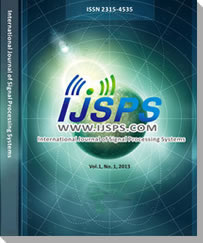 International Journal of Signal Processing Systems
(IJSPS, ISSN: 2315-4535)
Abstracting/Indexing: Ulrich's Periodicals Directory, Google Scholar, Crossref, etc.


Paper Template



Amsterdam, The Netherlands
Important Dates
Submission Deadline: August 10, 2020
Notification Deadline: August 30, 2020
Registration Deadline: September 15, 2020


Listener Registration
If you do not have paper submission, you are welcomed to register as the listener via Online Registration System to attend the conference.
The conference secretary at icosp@iacsit.net will contact you after receiving your registration.


Contact Us

Ms. Caroline Hu

icosp@iacsit.net

+86-18302820449

09:30-12:00, 13:30-18:00, Monday to Friday (GMT+8 Time Zone)
Latest News

July 31, 2020
Welcome Prof. Nader F. Mir from San Jose State University, USA join in the technical committee.



July 28, 2020
Welcome Prof. Yu-Chen Hu, Assoc. Prof. Houcine Hassan and Dr. Addisson Salazar join in the technical committee.

Technical Supporters